Mantis Ant has two variants. Mantis Ant and Metal Mantis.
Mantis Ant
Edit
Statistics
Edit
Location: Underneath Potos' Village
HP: 150
MP: 20
EXP: 10
GP: 100
Weakness: None
Weapon Orb: Sword
Take some time to build Randi (the boy) up to at least level 3. You can take the extreme route and build him to as high as 5, but it is really not recommended. At level 3, Randi has 69 HP, which is enough to take on the Mantis Ant with little to no trouble at all. Make sure you buy the Bandanna from the item shop.
This is the easiest boss in the game, seriously. If you have the bandanna equipped, you should not take any damage at all from his Acid Breath attack. He does possess a Level 0 Gem Missile, which will do somewhere around 10-20 damage, so watch out for that. If the Rusty Sword is level 1 (and it should be), you can just charge up to level 1 and let the boss have it. Keep attacking and he'll be dust before you know it. IF you happen to die, you will be revived, so do not worry about dying here.
Metal Mantis
Edit
Statistics
Edit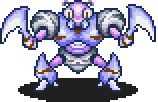 Location: Imperial Castle
HP: 1220
MP: 40
EXP: 4749
GP: 1464
Weakness: None
Weapon Orb: Glove
Your party should be up to at least level 32 or higher.
It is the steel version of the Mantis Ant. Doesn't mean he is exactly ten times harder either, this guy just has more attacks. Do be careful of his level 6 Gem Missile spell and his laser attacks. He also has Lunar Boost which raises his attack power. Basic strategy applies here - attack him with any spell from Popoi, and heal with Purim if needed. Randi should be doing what else, but using power attacks.