There are three Mech Rider bosses throughout Secret of Mana. They are named Mech Rider 1, 2, and 3.
Mech Rider 1
Edit
Statistics
Edit
Location: Kakkara Desert
HP: 980
MP: 18
EXP: 1595
GP: 1055
Weapon Orb: Whip
Weakness: Undine
Since you can choose to go to the Ice Country before going to Kakkara, you may have Salamando magic by this point. Mech Rider has a weakness of Undine attack. When he is at a corner use an Undine ice ball attack with the sprite character. It will take off tons of damage. However, going to the Ice Country first, means you can buy the better armor first, which can help out. No matter though. Just have your elementals at level 3, and your weapons up to date, and your levels at or above 22, and you should be just fine.
Mech Rider is another annoying boss to deal with, since he will keep charging from one side of the battlefield to the other at random. Attacking him causes him to cast level 3 Speed Up on himself. Basic strategy applies here, have Popoi cast whatever spell he pleases, while Randi (should have a level 4 sword by now) should attack and Purim should cast level 3 Cure Water when necessary.
Mech Rider 2
Edit
Statistics
Edit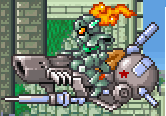 Location: Imperial Castle Rooftop
HP: 1258
MP: 30
EXP: 6013
GP: 1500
Weapon Orb: Javelin
Weakness: None
None needed, actually...but have your characters at or above level 33. Geshtar the Mech Rider is back, and this fight is no different than the one in Kakkara Desert. Same attacks, same Speed Up spell, only this time he has it at level 5 - like it matters. Basically, just attack him until he dies. You can use anything you like, as the boss has no weaknesses.
Mech Rider 3
Edit
Statistics
Edit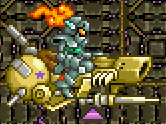 Location: Mana Fortress
HP: 4327
MP: 38
EXP: 21104
GP: 16000
Weapon Orb: Spear
Weakness: None
Not Geshtar this time - it's a Grim Golem like Grim Golem Generalissimo, stated in the Japanese version to have been created by sacrificing Geshtar. He still has his level 5 Speed Up and his charge attacks, which can paralyze you. But he also has Wall, and you know what that means. Popoi has to cast Dispel Magic to get rid of it. Or, you could leave it on, and then attack him. Every time you hit him physically, he will counter with level 5 Speed Up, and if his Wall is on, it will bounce onto one of your party members. You don't really need it. After getting rid of his Wall (or draining his MP), let loose with whatever spell you want...and keep attacking and the battle will be over in no time.
Ad blocker interference detected!
Wikia is a free-to-use site that makes money from advertising. We have a modified experience for viewers using ad blockers

Wikia is not accessible if you've made further modifications. Remove the custom ad blocker rule(s) and the page will load as expected.